Rialto Vehicle Wraps
VIEW GALLERY
Are you looking to impress clients, spread the word about your business, and build your business's professional image? As your local Rialto sign company, Precision Sign and Graphics, creates auto wraps, business car wraps, ad wraps, boat wraps, and more to do just that and more!
Whether you're looking to brand a fleet of commercial vans or your personal car, we can create the perfect vinyl wrap for any need. Being a full-service vehicle wrap provider means we not only fabricate the high-quality, attractive wraps you need, we also staff a team of talented designers and professional wrap specialists, dedicated to making sure that communications are accurate from one team to the other. With Precision Sign and Graphics, we are the complete package!
So whether need your commercial vans, trucks, boats, or cars wrapped, or you're interested in vehicle graphics, or car vinyl graphics – the professionals at Precision Sign and Graphics are happy to help you!
Call Precision Sign and Graphics at (951) 476-2858 for a Free Consultation with a Commercial Vehicle Wrap Expert!
Vinyl Graphics, Partial Wraps, & Magnets
Sometimes a full-auto wrap is more than you need for your personal or business goals. That doesn't mean can't still use your car as a promotional tool. Precision Sign and Graphics creates custom vinyl graphics, vehicle magnets, and partial wraps as well!
Full Vehicle Wraps
With full-vehicle wraps, you are transforming your vehicle into a full advertisement powerhouse. This type of wrap provides seamless coverage to your car, truck, trailer, van, or bus. With striking, full-color vinyl graphics, customized with your brand, message, and look, you are sure to make a big impact whether you're driving to and from work, or sitting in a parking lot eating lunch!
All of our premium-quality heavy duty vinyl offer the added benefit of protecting your vehicle's original paint job and are ideal for heavily used vehicles and watercraft, such as boats or jet skis.
Partial Car Wraps
Partial car wraps are designed so you can zone in on a particular area of your car for promotional use. You can choose any area of your vehicle, including your hood, bumper, tailgate, door, side panel, or any combination you want.
Our professional vehicle wrap specialists will apply your partial wrap to the surface of your vehicle, ensuring an attractive, seamless finish as they work with the natural lines and joints of your car. If you're working with a smaller budget, this is an ideal solution that gives you the look of a full wrap without the cost.
Vinyl Graphics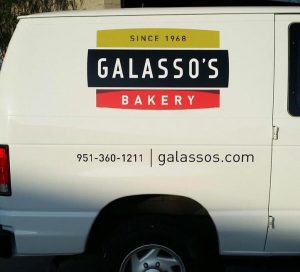 Individual vinyl graphics are also available for business identification or promotion. Vinyl graphics are cut into the shape of any image you want to be placed on your car instead of using a full vinyl sheet like those used on partial car wraps. This allows for even greater flexibility when choosing designs, locations, and can be updated, moved, or changed more easily. You can add to your vehicle or take away from the graphics as you need.
Most often, a single logo image or minimal text is best delivered through vinyl graphics.
Vehicle Magnets
Do you need a removable option? If you don't want or need to advertise your business everywhere you go, consider investing in a vehicle magnet. These are the easiest options to remove and replace as needed – whether you live in a signage restricted neighborhood, change vehicles regularly, or want to drive quicker on your time, and not have it be a negative reflection of your business.
Custom vehicle magnets are the least labor intensive option and are available in a wide variety of sizes, shapes, and styles.
Perforated Window Film
Many companies utilizing perforated window film to complement their full-auto wrap, or partial wraps. Window film provides an ideal surface to add your corporate message to your windows without interrupting the visibility of your vehicle occupants. As an added benefit, window film also offers privacy to the interior of your vehicle and puts the finishing touch on a truly show-stopping design.
Whatever your thoughts or ideas for impactful and effective vehicle wraps or graphics, Precision Sign and Graphics will create the right marketing images for your needs!
Professionals Wraps For All Vehicle Types
If you are looking for professional, cohesive fleet wraps, van wraps, personal car wraps, trailer wraps, or simply need a color change, Precision Sign and Graphics has the tools, resources, and experience required to create the right wraps and graphics for your needs.
We discuss your visibility and marketing goals, to help us to understand what your expectations for your wraps are, and make the appropriate recommendations to help you achieve those goals. Once we know what you want, we will develop a custom quote including any services you require, such as design assistance, manufacturing, and installation.
Our vehicle wrap services include:
In addition to our vehicle wrap services, Precision Sign and Graphics provides high-quality business signage for every need, including indoor signs, outdoor signs, and any custom signs you may desire or require.
Attractive Wraps for Your Entire Fleet
Vinyl wraps are a great way to introduce your Rialto, CA business to your community, increase custom confidence, and improve customer perception. If your business takes you to your clients home, like cable repair teams, electricians, or exterminators, people may be hesitant to let you into their house. With vinyl wraps, customers will feel confident that you are who you say you are and feel more comfortable when welcoming you into their homes.
Ad wraps have increased in popularity across every industry, but are still considered a staple for handymen, cable companies, plumbers, repair techs, electricians, delivery vehicles, landscapers, tutors, dry cleaners, and many other industries. We firmly believe that every type of business can benefit from vehicle vinyl graphics and wraps!
Promotional Car Wraps
Promotional car wraps are an ideal way to advertise your brand and business by simply going about your day as normal. Our wraps stay beautiful in all weather conditions, protects your car, and contains your personalized business information, making them a smart long-term business investment that gets your business the attention it needs to stay competitive!
Whether you work from home, share office space, or don't have an office space at all, vehicle wraps and car graphics are perfect for increasing brand and business awareness throughout your community.
Transform your vehicle into an advertising powerhouse with Precision Sign and Graphics! Perforated window film provides a seamless, polished finish to any of our vehicle wrap options. They are entirely legal, allow you to see perfectly, and provide you with some privacy.
Custom Boat Wraps
Do you operate on or near a beach or directly on the water? Precision Sign and Graphics has marine-grade vinyl boat and trailer wraps the will withstand corporate, charter, or personal usage. These durable wraps won't wear off in salt water, fresh water, or even sand. If you are a marina that provides boat rental services, this is a great way to protect your investment, while getting your message out consistently. Any business who operates near the water can benefit from the protection of a custom vehicle wrap.
Your Designs, Perfected
Do you need design assistance or you have a design in mind but need not sure where to go with it? We can help you design any auto wrap or auto vinyl graphic, as well as work with any files or creatives you have! We create custom vehicle wraps that allow you to put whatever you want on your vehicles, from a single logo and text to photos and other elements. During your free consultation with our vehicle wrap specialists, we will discuss your thoughts, ideas, and goals and recommend the wrap options that best fit your specific needs.
Full-Service Vehicle Wrapping
As a full-service sign shop, we offer the complete vehicle wrapping package. Our experienced wrap staff will be there for you throughout your entire signage project. We begin with a free consultation where we discuss what you want on your wraps, what vehicle type you have, and how you want to promote your business. We then go over your ideas, the ideas we have, and create a plan built on your specific needs. Our designers will then create a "mockup" of your wrap so you can see exactly how your project will look when installed on your vehicle. This sample allows you to make any changes you desire, from basic text edits to the placement of your graphics. This is your wrap, and we want you to be delighted as you cruise around town in your finished product.
After you approve your project design, we begin fabricating the individual vinyl elements that make up your wrap or graphic, right here in our Rialto wrap shop.
After your wrap is complete, our expert installers will begin the process of applying your finished project to your vehicle. Our team is expertly trained to ensure that your wrap is applied correctly, free of bubbles and ripples, and looks exactly as you imagined it.
If you need to update, change, or remove your wrap, we can also assist with this at any time, including making major and minor repairs as needed.
Free Vehicle Wrap Consultation
No matter what your vehicle wrap challenges are, Precision Sign and Graphics is your dedicated vehicle wrap provider that will deliver the attractive, high-impact solutions you need. From your initial free consultation through professional installation, we are here to help you grow your business and reach new market success.
Call Precision Sign and Graphics at (951) 476-2858 for your Free Consultation with a Vehicle Wrap Specialist!