Mira Loma Dimensional Letters
VIEW GALLERY
Impactful, captivating, and dynamic, dimensional letters, graphics, and signs are the perfect solution for almost any brand that wishes to catch the eye of new prospective clients.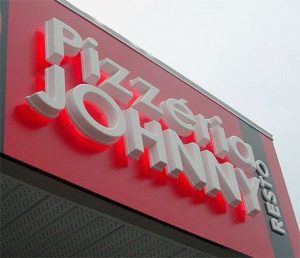 Dimensional letters, commonly described as raised or 3D letters, are custom letters or designs producing depth for your business storefront or interiors. This type of signage is fabricated, molded, cast, or cut from solid material to develop this impact.
Dimensional letters offer the attractive solution that all company owners are searching for: high visibility, longevity, and a professional, eye-catching look.
Precision Sign and Graphics can testify that brandable dimensional lettering is an excellent option for almost any facility. It doesn't matter if you operate a medical facility, church, gas station, hospital, etc., our dimensional letters look good on and in your facility.
Our custom produced raised letters are purposely crafted for visibility so that they greatly expand your Mira Loma marketing and advertising reach. Precision Sign and Graphics produces your custom signage using the perfect elements that are available so after installation of your dimensional lettering, they will easily keep building excitement around your brand name for many years, without fail.
Call Precision Sign and Graphics today at (951) 476-2858 for your Free Consultation!
Appealing Storefront Signage
Easily noticed and remembered, dimensional letters make an excellent choice as your building's outdoor sign. They add dimension, depth, and texture to your storefront, while exuding a more sophisticated appearance. The adaptability of dimensional letters is also positive. Commonly placed on to your building exterior, they can also be effectively used on monument signs, pole signs, and post and panel signs. Channel letters are an alternate choice to dimensional letters.
Regardless that 3D letters are not traditionally lighted, Precision Sign and Graphics can incorporate lighting fixtures, spotlights, or outline lighting while we are performing sign installation, so that your dimensional letters are apparent even during the night. Our custom dimensional letters ensure that what you have to offer attracts attention and your brand message makes an impact, consistently.
Attractive Indoor Lettering
Dimensional letters are not solely for your Mira Loma, CA business storefront; furthermore, they add the inside of your business an attractive mood as office logo signs. Have them installed in your business waiting room and your logo is going to be the first item your clients and guests perceive the moment they come into your shop. Dimensional lobby, reception, and logo signs are fairly popular, and they are available in a number of materials, with the option to include lighting additions, if required or desired. Dimensional letters could also be used as wayfinding signage and other interesting custom signage to deliver a positive benefit to convenience stores, restaurants and gas stations.
3D letters, regardless of the name, are not just limited to merely lettering either! Your custom signs can include logos, numbers, images, or a mixture of all that applied to the walls of your shop. Precision Sign and Graphics's skilled team of designers can help develop indoor signs unique for the distinct originality and style of your one-of-a-kind brand. If you are desiring an impactful 3-dimensional appearance that certainly ensures your branding won't be missed, Precision Sign and Graphics produces dimensional lettering that best speak to the values of your brand.
Durable Dimensional Letters
Precision Sign and Graphics produces 3-d lettering from numerous materials and mediums that best match your branding and business. Depending on your design and goals, we will choose either light foam, metal, wood, and/or plastic for the primary material for your project.
As a sign material, plastic is known as being incredibly versatile and includes coroplast, polycarbonate, acrylic, and vinyl. The ruggedness and stability of plastic signage allows it to be an effective option for business exterior dimensional signs and graphics. Metal is a superb pick for indoor letters because of its polished charm, and it is extremely durable when used on your business storefront. Metal for sign making is commonly chosen from stainless steel, aluminum, brass, bronze, and copper. A popular choice for eye-catching, colorful lettering and graphics, light foam is preferred as it is sturdy, lightweight, durable, and thick. Our expert team will be able to help you pick out the most appropriate commercial signage type and fabrication media to realize your ideal finished overall look without overreaching your allotted budget.
Full-Service Sign Company
Selecting the perfect sign for your corporate brand isn't easy. You will require patience, time, research, experience, and a time-tested sign fabrication strategy. When you work with Precision Sign and Graphics, you can be certain that you will definitely not have to go through all of this single-handedly. Our crew of accomplished graphic artists and sign makers can impart their insights to support you all through the signage creation process.
Precision Sign and Graphics is your trusted signs and graphics provider. Our Mira Loma experts produce customized signage designs, we assist you in picking the best fabrication media for your business purpose and needs, and we ensure your sign and graphics are strategically positioned. Our professionals are always only a call away should you ever require our assistance with your signage and lettering.
Free Dimensional Letters Consultation
Precision Sign and Graphics gives virtually endless customization possibilities for your custom business graphics, signs, and displays. Regardless whether you want to get more shoppers to come inside your location, promote your brand, or make it easier for customers to find what they need without assistance, our dimensional letters, logos, and images are the perfect solution for your unique business.
Call Precision Sign and Graphics today at (951) 476-2858 for your Free Consultation with a Dimensional Letters Expert!